Mass transit in the Philippines today indeed draws roots from colonial development to adaptation. Modernity also brings technological advances for mass mobility. Consequently, this included a shift from water-based transport to more land traffic dependence.
Furthermore, the Philippines continues to face its challenges in finding itself, and practicing self-sufficiency in many facets such as mass transit. New mass transit systems also find their way from its century-old forefathers, promising full steam ahead as history continues to write itself.
Dethroning the "king of mass transit"
Railroads generally carried the monopolies for freight and passenger services, until World War II. Before then, the Manila tranvía system dominated the street-level commuting bustle of the city and beyond. This is also true for other provinces which had tramways; specifically, Daet of Camarines, Paniqui to Camiling in Tarlac, and even Corregidor Island among others.
The Manila Railroad Company had way more expansive lines, as it was back then. Also depending on the year where one travels, going to Tutuban grants the passenger a trip up North, and Paco holds the terminal for lines going South.
In other regions, there had been privately operated agricultural lines before, and others at penal colonies. For instance, Negros had logging railways, and Mindanao had Dapeco and Iwahig narrow gauge railways.
Liberation "at a cost"
Briefly though, the Japanese Occupation operated limited services of the Manila Railroad lines under a "Rikuun Kanrikyoku", a land transportation board. Later, the MRR and the Manila tranvía's low maintenance and a high demand met its final blow during the Battle of Manila in 1945.
Meralco on the other hand turned to producing autobuses, where some resembled trolleybuses.
The role of Manila Railroad is worth noting during the war; one of these also includes the Bataan Death March. In addition, prisoners-of-war who survived the tortures in between the march were transported in hot and stuffy metal railcars, as if they were freight, to Camp O'Donell at Capas, Tarlac.
Consequently for the tranvía, it was scrapped along the way, and bridges were destroyed. Lines once run through by trams have become a battleground for weeks at that time. And thus, public transportation in general was obliterated in those times.
Post-war decline of rail transit
There was also a growing demand for wheeled traffic, even before the war and by then.
The Manila Railroad Company faced a growing competition with road trucking services, and thus necessitated the need to run its road-based services.
Apparently, this is also true with the railways of Visayas and other private railways; autobuses later dominated the transport market from the 30's there. Likewise, they also had horse-drawn transport, called "tartanillas". These areas which once heavily relied on rail transport now seek demand on road-based transit.
From "temporary" to "contemporary"
The jeepney
Above all, the jeepney is an ubiquitous commuting mode throughout the Philippines. As it can be found on most streets wide enough for four wheels, this is also mistakenly described as the descendant of the tranvía. Nonetheless, the jeepney is often dubbed as the "king of the road".
Leandro Sarao, who founded Sarao Motors is often attributed for the inception of jeepneys, and also for the creation of this local innovation from surplus Willys or Ford Jeeps. Likewise, Filipinos either bought or reused the surplus vehicles, as the Americans left the country.
The term "jeepney" indeed came from the acronym GP, which meant "general purpose". Wartime jeeps of shorter bodies were also called "AC" or autocalesa. Furthermore, the term jeepney has seemingly arisen from the terms jeep and the jitney, slang for a "dollar van".
As a common mode of transit, jeepneys became an inexpensive means to provide alternative public transport which also does not need definite stops, but the passenger saying "para po!" before alighting.
Other forms of public land transport
Although dollar vans exist in other countries, the jeepney is distinct from other modes of road transit from its overall form. For instance, the body can be long or short, or manufactured from surplus vans and mini trucks, depending on the locality. It also has longitudinal seating, windows that run on both sides, and chrome-plated designs and/or paintwork. And thus, some jeeps may look more like trucks or mini-buses.
The buses we have today as a no-brainer come from the autobuses of Meralco and subsequently, other private transport companies. Meanwhile up to this day, travelling to provinces would have to be done by bus.
The concept of other land-based transport such as tricycles, UV express, and others do serve as alternative modes of transport. However, it does not serve as much capacity. But with the sake of convenience, these other modes could likely have come from the horse-drawn calesa and others. Today, the calesa is a novelty, usually servicing near historical sites, or when it is culturally applicable.
Continuing full steam ahead?
Diesel and road-based technology consequently defined how mass transit gets powered.
The Manila Railroad procured Streamliner diesel locomotives in the 1950's, while gradually scrapping the larger steam counterparts. Likewise, the railways of Visayas also followed suit, although some milling and logging companies kept steam locomotives to as late as the 1990's.
The major railway based in Visayas, now better known as the Panay Railways, also continued to have rail services until the 80's. Recently, the company earns by renting its land along its right of way, though reclaiming this for its original purpose is yet to be materialized.
Philippine National Railways
The Manila Railroad Company did not expand its services after the war, perhaps except for a certain Carmona Line in Cavite, and another line to Gapan. Yet in addition, PNR had also offered bus services, which likely disappeared in the 1990's.
Subsequently after fleet modernization, Republic Act 4156 took effect, reorganizing the Manila Railroad Company as the Philippine National Railways today; also as a government operated and controlled company.
Earlier during the past decades, there still had been services both to the north and south and to the east at Rizal, and even the "Bicol Express" which is apparently a postwar service as a whole (if one talks about the service from Tutuban).
Via contraria
Today, the Philippine National Railways provides services that are a far cry from how the MRR had fared back then. For instance, to the North, services from Tutuban or FTI stations would reach Acacia (now Governor Pascual) station; likewise to the South, from Tutuban one can ride to Muntinlupa, and sometimes to Laguna.
As of this writing, while railways are expected to be reliable and on time like Thomas and his friends, PNR is yet to get back on track, in reclaiming its apparent lost glory and as an important medium that connects regions at Luzon.
Meanwhile in this quest, PNR is set to expand its lines with the North-South Commuter Railway, a South Long Haul plan, and reviving the railway at Bicol.
Light Rail Transit
Before, Meralco deemed the revival of the tram system as "beyond economical repair" after World War II. It then went on to become a major electric provider company as we know today, though it kept the "railroad" in its full name (i.e. Manila Electric, Railroad and Light Company).
Although Meralco has nothing to do with the present-day Light Rail Transit (LRT) as it is widely known, the elevated LRT Line 1 as a whole traces its roots from the trams.
It was not until the 70's or so, when comprehensive mass transit plans were being studied for Manila and its surroundings. Initially, Line 1 was to be a rapid rail transit system of some sorts, to be built underground. Had this been built, it might not be a direct descendant of the trams as it would use metro capacity trains.
Line 1
But what we have today is what is considered the first modern light rail transit in Asia, which was inaugurated in 1984. The LRT–1 as it is best known, presently connects the the cities of Pasay, Manila, Caloocan, and now to Quezon City.
Moreover, Belgian companies BN ACEC manufactured the first generation light rail vehicles (LRVs) of the LRT. These trains relied on "mushroom" vents, as these were not air-conditioned yet before.
Additionally, Architect Francisco Mañosa designed the original stations of the LRT Line 1, which features a neo-vernacular structure with its imposing hip roofings.
The trains also wore an orange and maroon "Metrorail" livery, until the system went through an expansion project in 1999. At this time, seven second generation LRVs from South Korea arrived, complete with air conditioning. Subsequently in 2006, LRT–1 procured new LRVs from Japan, perhaps the most ubiquitous of the fleet as one rides the LRT as of this writing.
Even though the LRT is explicitly light rail, its high floor design (i.e. elevated) and its rather high demand makes it count as a light "metro" rail system. And thus with a growing demand for transport, as of this writing, LRT–1 awaits its expansion down to Cavite to the south.
Line 3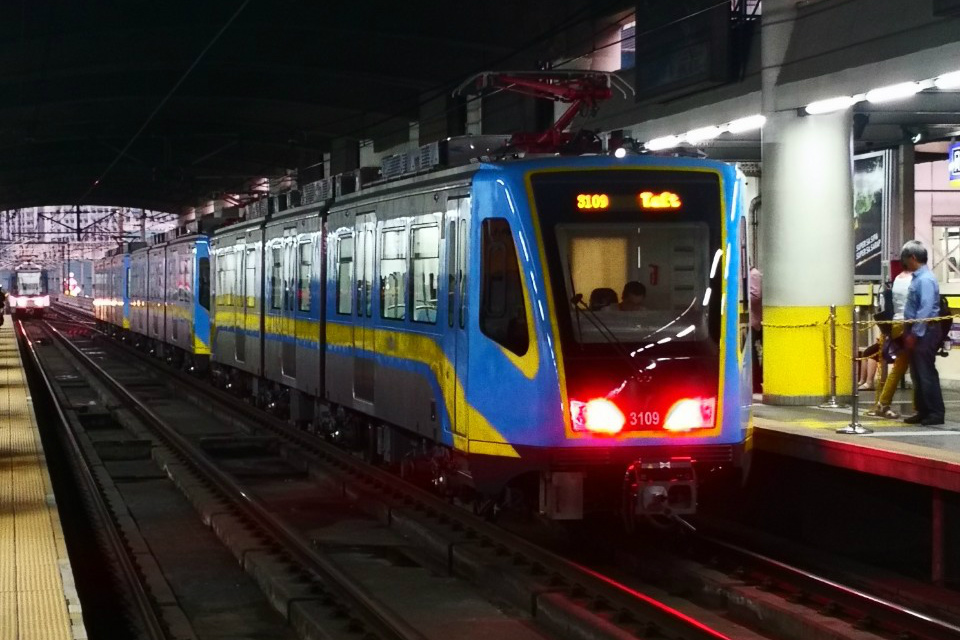 Despite it being labeled as "MRT–3", Line 3 is another light rail transit system. Line 3 also runs through the original stretch of EDSA (Epifanio de los Santos Avenue), and began operations in 1999.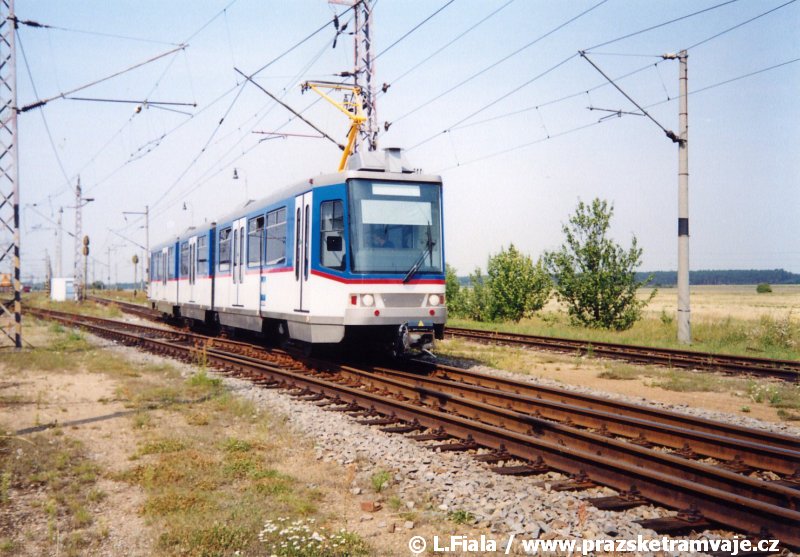 Why is Line 3 light rail? Back then, CKD Tatra produced Line 3's earliest trains, and aside from being a producer of tram vehicles, the RT8D5M (as it is the more complete name) is a high-floor light rail vehicle. It is also worth noting that the trains of Lines 1 and 3 could have been interoperable, as they share similar specs such as the same rail profile, gauge, and body widths quite close to one another.
Line 3 was constructed amidst the Asian Financial Crisis which can contribute to its rather diminutive design. And thus today, the enigma of EDSA's traffic remains; Line 3 possibly falls short to adequately meet its daily passenger demands, with a rather notorious track record from 2014, and long queues up to this day. But at the very least, with new trains from China and a change for maintenance provision, it still… Well, it works.
Metro Rail Transit
The Megatren
In its race to catch up with demand and modern development, Line 2 is certainly the Philippines' first modern (and strictly) metro rail transit. Nonetheless this is still known as "LRT–2", and it had an older nickname, "Megatren". 
Completed in 2004, Line 2 was then promising. For instance, it has a fleet of electric multiple units (EMUs) from South Korea (which resembles some second-generation Korail rolling stock, and are nicknamed "round face".). It also features a pioneering building technology at that time, hence it features a rather slim viaduct compared to that of Line 1.
Line 2 also features stations intended for better accessibility. In the same vein, Architect Norberto Nuke designed the open-air structures with the yellow "space-frame system", a little-known fact about Line 2 stations.
The trains of Line 2 are significantly wider than its other electric railway counterparts. These trains can also carry a larger volume of passengers, quite akin to those from the Philippine National Railways.
More to arrive…
There have been modern railway projects to this date. As of this writing, some of these plans are as follows:
The North-South Commuter Railway under the Philippine National Railways;
The MRT Line 7;
Line 9, also slated as an underground subway for Mega Manila;
Line 4, a planned monorail line; and
The Mindanao Railway.
Towards more inclusive transportation
It is true that mass transit in the Philippines is indeed dysfunctional. It is also poorly defined at some point. Additionally, mass transit may not always have to include vehicles rolling on wheels; it should as well include other alternatives which may be slow but generally convenient. One cannot be a commuter without having to go by foot at certain points, for instance. 
Mass transit, from its name, should indeed serve the greater public. It should be maximized accordingly that the masses can be accommodated. It also should be accessible; furthermore, there must not be a need to have superficial sacrifices that are more detrimental than useful for the long run.
Does Manila need more roads? Or maybe we can just bring back the trams instead. Meanwhile, our cities can still be made more generous to Nature, especially as we go full steam ahead in greeting new generations to come. Finally, development should be controlled, and for all; and for us as the civil society, we must also have a say for the place we all share and move around in.
References
Papers and essays
Railways in Visayas and Minsanao
Documents
All photos here are embedded from Flickr unless otherwise done so. Furthermore, clicking the photos will lead to the page where it is originally hosted.
This article is derived from the former publication, "Mass Transit in the Philippines Today" from our old WordPress site.
28 November 2021
Article by Longcake Depot
Cover art by Diego Torres
Renacimiento Manila, all rights reserved.